EMPLOYMENT
Billy Heroman's attracts the best people to our company. Many of our employees have been with us for 10-20 years or more. As an industry leader, we are always on the lookout for people with talent, and find it in people from a wide variety of backgrounds. Professional attitudes and genuine smiles reflect the positive outlook that creates our great working environment.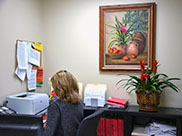 We are an equal opportunity employer offering fun and exciting employment opportunities to individuals willing to work hard. If this sounds like you, tell us a little about yourself. We are looking forward to your interview. Benefits available include: store discount, paid vacation, flex time, medical insurance, and a retirement plan.
Thinking about moving to Baton Rouge? Contact us online or call (866) 875-3006 and ask for our Human Resource department to discuss all possibilities.