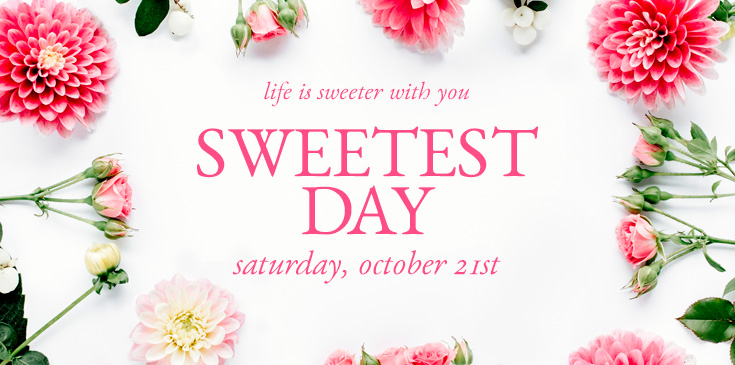 Just over 100 years ago in Cleveland, a group of confection companies got together to give sweets and candies to orphans, shut-ins and the homeless. In all, they handed out 26,000 boxes of candy and named the event "Sweetest Day". When they suggested making it an annual event, they were met with widespread cynicism, as the public thought that perhaps they were thinking more of creating a holiday that helped their pocketbooks, not the needy. Still, the observance has survived down through the years, primarily in the Northeast and Midwest, as a day to reach out to those who are in need of some help and encouragement.
Who in your life could use a pick-me-up? Billy Heroman's Flowers & Gifts has a wide selection of options sure to make them smile. Sweetest Day is October 21. 
Snapdragons, roses, and lilies  in shades of pink are indeed a sweet gift, and will definitely lift the spirits of someone who needs encouragement. Or perhaps you would prefer to send this contemporary design of 24 roses (any color) in a glass cube vase.
Did You Know? Studies have shown that receiving flowers elevates the mood and increases feelings of well-being.
If you have a neighbor living alone, a loved one mourning a loss, or a friend looking for a job – a basket of chocolate treats is a welcome gift on Sweetest Day. This gourmet selection includes  candy bars, gourmet chocolates and cookies.
Sometimes, all we need to feel better is to share some delicious snacks with our friends – pretzels, chips, favorite candies and cookies fill this bowl to overflowing. Pick this up at Billy Heroman's Flowers & Gifts, and bring it by yourself to spend an afternoon with someone you love.
Sweetest Day is a wonderful opportunity to let someone know that you think they are awesome – and a floral design or gift from Billy Heroman's Flowers & Gifts in Baton Rouge is a great way to begin. Call us today to be ready for October 21!